13. July 2023
MikroTik / Success Sory
Last December we reported on a big LAN party in Taiwan with 800 PC players and some CCR units.
This time, the action took place at the Belgrade Fair in Serbia, where MikroTik' s proven CCR2004 and CSS326 provided excellent 10-gigabit connectivity during the "Games.con" e-sports and pop culture festival.
4 days, 40 computers, 3000 participants, 30,000 guests and a lot of fun with famous e-sports titles like CS:GO, DOTA2, League of Legends, Valorant, Rocket League… That sounds like a worthwhile challenge for routers and switches, doesn't it?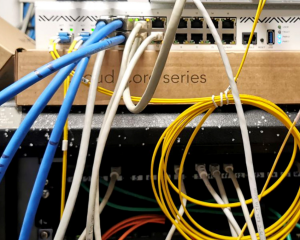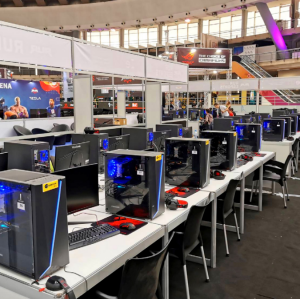 "It was a very demanding event for the network, but the CCR2004-16G-2S+ and the CSS326-24G-2S+RM managed their task without any problems," says Pavel Pulek, owner of NETIKS – a MikroTik distributor that managed the technical side of the event.
Interestingly, the venue had its own fiber optic lines between the halls, but there were many bugs, problems with the power supply and other issues. The introduction of additional MikroTik SFP+ devices for reliable fiber connections was a real game changer.
Why waste your time trying to solve the puzzles of an existing network when you can deploy your own super-fast, cost-effective, reliable, and well-organized MikroTik alternative?