24. January 2022
MikroTik
10G network meets the unprecedented performance of a modern ARM CPU. The strongest CCR so far!
The new generation of processors offers overwhelming performance. Let's take a look at the CCR1036 – the powerhouse with a 36-core CPU, the performance of which can easily be doubled by the new CCR2116. 16 cores vs. 36 cores. Double the performance of the router. Or even more.
CCR2116-12G-4S+
If you're a fairly large ISP dealing with dynamic routing, massive BGPs, complex firewall rules, and complicated Quality of Service configurations, this is the device for you. Combining raw power and utility with the reliable 10G network.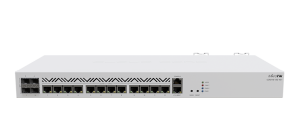 There is also an M.2 PCIe slot. It supports SSDs up to 8 terabytes. This could be extremely useful for all kinds of container apps (coming soon in v7). But we're very excited to see what interesting use cases you'll find with this router.
We wanted to unleash the full potential of the good old reliable 10G network combined with a modern CPU. With the CCR2116-12G-4S+ , you can forget about CPU limitations in your setup.
Like its younger brother – the amazing CCR2004 – this router features the powerful Alpine CPU from Amazon Annapurna Labs.
There are four 10G SFP+ ports. They have a separate full-duplex line connected to the Marvell Aldrin family switch chip. Then we have Gigabit Ethernet ports. 12 of them run on the Marvel chip. And there is another gigabit port that connects directly to the CPU.
Each group of 4 ports has a separate full-duplex connection to the switch chip. There are no bottlenecks here. You can expect switch-like throughput in most setups. But with 16 cores running at 2GHz, this CCR eats the others for breakfast.
CCR2116-12G-4S+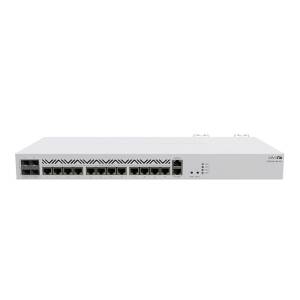 Processor: AL73400 2GHz
CPU architecture: ARM 64-bit
Number of CPU cores: 16
RAM Size: 16GB
RAM type: DDR4
Memory: 128MB, NAND
Number of 1G Ethernet ports: 13
Number of 10G SFP+ ports: 4
Number of M.2 slots: 1
Operating system: RouterOS (license level 6)
Switch Chip Model: 98DX3255
Dimensions: 443 x 199 x 44mm
Operating temperature: -20 ° C to + 60 ° C