24. November 2021
Uncategorized
Teltonika FMB641 is an updated version of the currently most popular GNSS / GSM terminal for professional applications FMB640. Compared to the FMB640, the FMB641 has a new processor that improves the computing power of the device. Hence, it can be tailored for more specific use cases.
Switchable CAN terminators enable the device to be used in a CAN network with numerous nodes. Finally, the device can be powered via USB, which makes the configuration process easier.
All functions supported by the FMB640 are also supported by the FMB641 to increase the efficiency of your fleet with functions such as FMS CAN data (J1939), fuel CAN data (J1708), tachograph live data (K-Line ), Remote tachograph file download, support for various third party RS232 or RS485 devices, and dual SIM or eSIM compatibility.
The terminal is suitable for applications such as international logistics, refrigerated transport, agriculture, construction and mining, security and emergency services and much more.
FMB641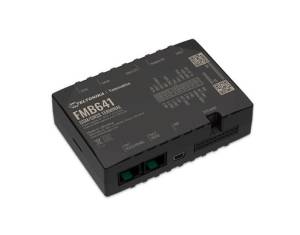 GNSS
GNSS: GPS, GLONASS, GALILEO, BEIDOU, SBAS, QZSS, DGPS
Receiver: 33/99 acquisition channels
Tracking sensitivity: -165 dBM
Position accuracy:< 2.5 CEP
Speed Accuracy:< 0.1 m / s (within +/- 15% error)
Hot start:< 1 s
Warm start:< 25 s
Cold start:< 35 s
Cellular
Technology: GSM / GPRS
2G: Quad-band 850/900/1800/1900 MHz
GPRS: Class B GPRS mobile station
Data transmission: GPRS multi-slot class 12 (up to 240 kbps)
Data support: SMS (text / data)
Operating environment
Operating temperature (without battery): -40 ° C to + 85 ° C
Storage temperature (without battery): -40 ° C to + 85 ° C
Operating humidity: 5% to 95% non-condensing
Protection class: IP41
Storage temperature of the battery: -20 ° C to + 45 ° C