4. August 2021
Blog / Teltonika
According to Juniper Research, 46 billion IoT devices will be connected to the internet by the end of 2021. That is an increase of 200% compared to 2016. They all use different methods like the RUTX14 to connect, but cellular communications has grown in popularity in recent years.
RUTX14 from Teltonika
To date, the Teltonika portfolio includes products in various LTE and LTE-A categories: Cat M1, NB IoT, Cat1, Cat4 and Cat6. Each category has its advantages and specific application scenarios.
Depending on how much speed and throughput a particular solution needs. Each category offers higher speeds and bandwidths, so the RUTX14 LTE-A Cat12 dual SIM cellular router, newly added to our range, meets the requirements of the most demanding applications.
RUTX14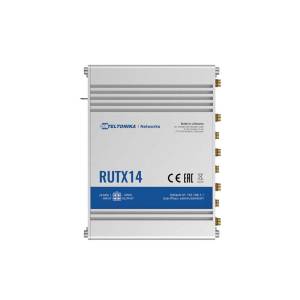 4G LTE Cat. 12 Industrial cellular router:
Hardware:
Mobile: 4G / LTE (Cat. 12)
CPU: Qualcomm, 4x ARM Cortex A7, 717 MHz
Memory: 256 MByte Flash, 256 MByte RAM
Power supply option: 4-pin socket, 9-50 VDC
SIM: 2x external SIM holder (2FF)
Antenna connections: 4x SMA for mobile devices, 2x RP-SMA for WLAN, 1x RP-SMA for Bluetooth, 1x SMA for GPS
Ethernet: 5x 10/100/1000 Ethernet ports: 1x WAN (configurable as LAN), 4x LAN
WLAN: IEEE 802.11b / g / n 2.4 GHz, IEEE 802.11n / ac 5 GHz, access point (AP), station (STA)
GNSS: GPS, GLONASS, BeiDou, Galileo, QZSS
Connections: 1x 4 pin DC, 5x Ethernet, 4x SMA for LTE, 2x WiFi RP-SMA, 1x SMA for GNSS, 1x RP-SMA for Bluetooth
Bluetooth: 4.0 (Low Energy)
Inputs / outputs: On 4-pin socket: 1x digital input, 1x digital open collector output
Other: 1x USB host, 1x ground screw
Status LEDs: 4x WAN type, 2x connection type, 3x signal strength, 2x WLAN, 10x Ethernet, 1x power
Operating temperature: -40 ° C to 75 ° C
Housing: aluminum housing with DIN rail mounting option and grounding option
Dimensions (W x H x D): 132 x 44 x 95 mm
Weight: 515 g
software
Operating system: RutOS (OpenWrt-based Linux operating system)
Mobile functions: Multiple PDN, automatic APN, band lock, SIM switching, black / white list of the operator (planned), data / SMS limits
Network: Failover (network backup), VLAN, QoS, load balancing
Routing: Static routes, dynamic routes (BGP, OSPFv2, RIPv1 / v2, EIGRP, NHRP), routing rules
Monitoring and management: WEB-UI, CLI, SSH, SMS, TR-069, SNMP, JSON-RPC, MQTT, RMS
Cloud solutions: RMS, FOTA, Telenor, Azure IoT Hub, Cloud of Things, Cumulocity, ThingWorx
Hotspot: external / internal radius, SMS OTP, MAC authentication, walled garden
Supported hotspot platforms: IronWiFi, HotspotSystem, Cloud4Wi, SAI + WiFi, MugiCloud, Purple.ai
RUTX14 is the fastest single-modem LTE router in the Teltonika portfolio. It has 5x Gigabit Ethernet ports, Wave-2 802.11ac dual-band WLAN, Bluetooth LE, USB interfaces, dual SIM for extended throughput and extremely reliable connectivity.
It is equipped with advanced security functions such as multiple VPNs, firewall & prevention of cyber attacks. The combination of fast LTE Cat. 12 connectivity, a wide range of physical interfaces, extensive RutOS functionality and great remote management capabilities make this device an excellent choice for primary or backup connectivity.