4. April 2023
Ubiquiti
UniFi OS is the operating system that hosts all UniFi applications and allows you to centrally manage your network from anywhere in the world.
Which applications run on UniFi OS?
UniFi Network: An intuitive home and business network management platform that allows you to configure WiFi networks, monitor clients, set custom traffic rules, and much more.
UniFi Protect: A plug-and-play camera security platform for home and business use where you can view live surveillance streams, record and store footage, set custom detection areas, and personalize how you are notified of captured activity.

UniFi Talk: A fully featured, affordable, subscription-based Voice over Internet Protocol (VoIP) phone solution designed for small and medium-sized businesses.
UniFi Access: A state-of-the-art access control system that supports conventional electric bolts/strikes, magnetic locks, and 12V access accessories such as motion sensors, push buttons, and alarms. Allows you to easily manage users, visitors, schedules, and access policies.
UID: A simple but comprehensive administrative platform for larger organizations that allows you to manage employee roles, network permissions, door access, workflows, hierarchies, support tickets, and other daily productivity tasks.
User access is tied to individual single sign-on accounts to centralize and streamline personnel management.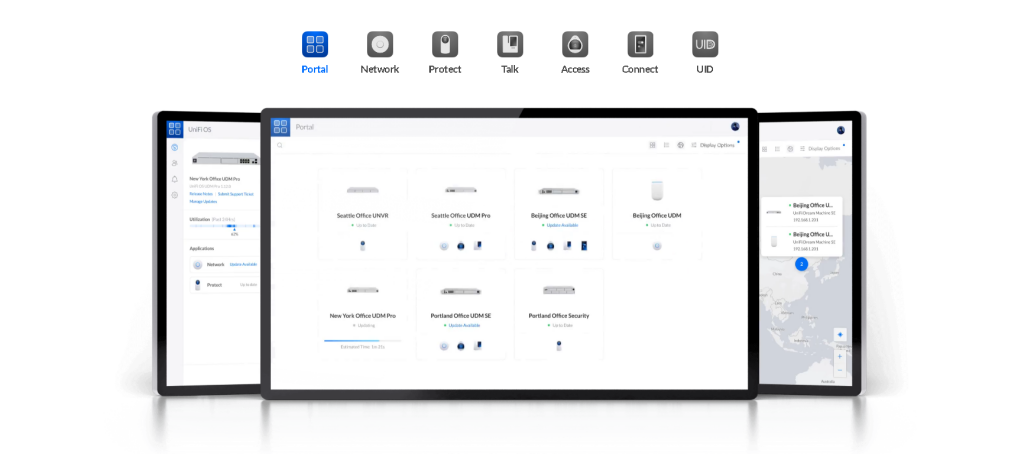 Which UniFi OS Console is right for me?
We recommend the Dream Router for most home users because it has a built-in access point and supports all UniFi applications.
For enterprise users, we recommend the Dream Machine Pro since it is a much more powerful gateway that can manage up to 75 access points.
How many HDD bays does each UniFi OS Console have?
Dream Machine Pro: 1
Dream Machine SE: 1
Cloud Key Gen2 Plus: 1
Network Video Recorder: 4
Network Video Recorder Pro: 7
Note: We recommend installing 1-16 TB HDDs. Please note that no maximum storage threshold has been confirmed for any application or HDD model.
UDM-SE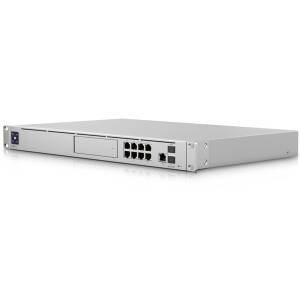 Processor: Quad-Core ARM® Cortex®-A57 at 1.7 GHz
System memory: 4 GB DDR4
On-board storage: 16 GB eMMC; Integrated 128 GB SSD
IDS/IPS throughput: 3.5 Gbps (measured with iPerf3)
Max. power consumption (excluding PoE output): 50 W
Why should I use a UniFi OS Console instead of self-hosting UniFi Network?
Self-hosting the UniFi Network application on a home computer or 3rd party virtual machine (VM) requires advanced configuration of resources such as RAM and CPU.
It also necessitates familiarity with firewalls and network security to maintain a safe runtime environment for your network.
A UniFi OS Console takes all the guessing out of the picture as it is already optimized for running all of our UniFi Applications.
It is also a significantly more secure solution for remote access, as this is hosted on your physical premises, as opposed to a third-party virtual machine in the cloud.
Can I migrate to a UniFi OS Console from my self-hosted UniFi Network application?
Yes, self-hosted Network Application backups can be migrated to a UniFi OS Network Application if the new Network Application is of the same version, or newer.
Note: Only Cloud Keys and Cloud Consoles support the multi-site feature.